DueDil raises further $17million of funding to fuel growth and expansion
I'm happy to let you know about DueDil's Series B funding round, which we announced today. We've just raised a $17m round led by Oak Investment Partners alongside our other existing investors including Notion Capital and Passion Capital. This brings our funding total to just over $22m.
We've all been hard at work since we closed our first funding round last year. The company and product are growing at remarkable speeds and this new investment will help develop our vision of real-time decision intelligence, whilst expanding our coverage to new geographies.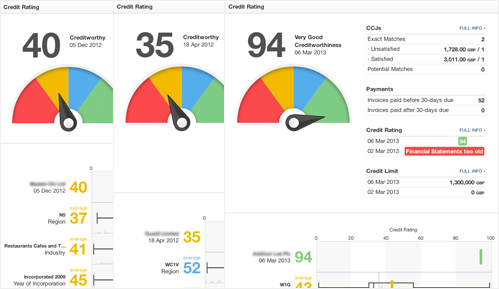 For those interested, the full announcement is below:
DueDil, the business discovery platform, today announced it has completed its Series B financing round, led by Oak Investment Partners, which has increased its commitment to the London-based company.
The funding round was also supported by existing investors Notion Capital and Passion Capital. With its new investment, Oak Investment Partners will take a seat on the DueDil board, alongside existing board members.
This latest funding follows the company's Series A financing in April 2013, and brings total investment in DueDil to $22m over the past 10 months.
The new capital will be used to increase DueDil's user acquisition activity; deepen user engagement through new personalisation, discovery and network tools; and bring DueDil's web coverage to new geographies. Customers can currently access information on companies and directors in 22 different countries via the DueDil API.
Already the largest source of private company information in the UK and Ireland, DueDil has democratised and transformed the business information sector by enabling any individual or business to access up-to-date information on all companies and directors.
DueDil founder and CEO Damian Kimmelman said: "Business has an information problem. While you can find a stranger's entire employment history online, it's difficult to find detailed information on their company. This poor information flow leads to bad decisions, increases risk and creates missed opportunities."
"Our vision is a world of real-time decision intelligence, one where data is integrated seamlessly into business decision-making. To realise this, DueDil's next phase is about embedding world-class discovery tools, platforms and networks into daily working life. Some of the smartest people and companies in the world are plugging into DueDil to exploit our unique business data and insights."
Ifty Ahmed, General Partner at Oak Investment Partners, said: "We're excited by the scale of the market that DueDil is creating. Business information is a multi-billion dollar industry that's changed little in decades. In particular, DueDil is enabling small and medium-sized companies, which represent 99% of all businesses, to access rich insights and information. The DueDil executive team has a clear strategy for reordering the business information sector around customers, and is executing in an impressive way."
The Series B funding is the latest in a series of significant achievements at DueDil. In the past 12 months, the company has:
Doubled in size since the Series A round and is expected to double again in the next 12 months.
Seen consistent growth in its blue-chip Enterprise customer base, including among most of the FTSE 100. Launched the v2 DueDil and International API in May 2013, with the v3 API due for release later this month (March 2014).
Been named among Wired magazine's ten hottest London startups; featured in Forbes' "Britain's Six Best Financial Technology Businesses" and in the 2013 & 2014 FinTech 50; listed as a Rising Star in the Salesforce Innovation Challenge 2014.