London ElasticSearch User Group Presentation
This week I had the fantastic oppertunity to give a presentation at the London ElasticSearch User Group, held at London's SkillsMatter eXchange. The group has grown considerably over the past year, and I'm always impressed and excited by the discussions that we have.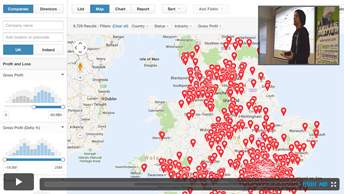 In my talk, I discuss how DueDil have been harnessing the power of ElasticSearch to build a new way of searching, analysing and exploring business information. I cover the topics of importing via the bulk indexing API, and tricks and tips around how to use Facets efficiently to add depth and context to your search applications.
A massive thank you to everyone who attended. Special thanks to Yann from Cogneta for organising the event, Elasticsearch.com for sponsoring and providing refreshments, Chris from Hortonworks for his presentation about using Hadoop with Elasticsearch, Clinton Gormley from Elasticsearch for his great Q&A session, and finally SkillsMatter for hosting and recording the meetup.
I look forward to seeing you all at our next event!